2020 5-star RJ Hampton is something special to watch. He is gritty and tough yet he has the smoothest shot in high school. He plays with Finesse and is a true leader on the floor. One game which was a Texas showdown between Northwest high school and Little Elm high school. The crowd screamed overrated to RJ, not only did he come back help his team beat Northwest high school to shut the crowd up. He toy and played with them the whole time. Hampton is number one player in Texas, number one combo guard and 5th ranked prospect in the 2020 class by 247 sports. He is 6-5 170 and plays for Little Elm high school out of Little Elm, Texas. In 8 games of AAU ball he has averaged 24.6 points 4.6 rebounds 6 assists and 1.7 steals with Mudiay Elite so far this season. We talked about his recruitment for Stock Risers.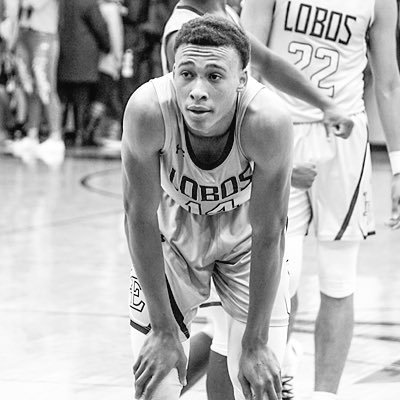 LJ: Has your recruitment picked up a lot recently? What are some of your latest interest and offers?
RJ: It has kind of; really the schools that have been there from the beginning are here now.
RJ: How was your Kansas Visit? What stood out about them?
RJ: My Kansas visit was great; they have some of the best fans in the country. The way coach Self and his players interact stood out the most.
LJ: What school is recruiting you the hardest?
RJ: I think all of the schools that recruit me are ramping it up as of lately
LJ: What school has stood out to you the most?
RJ: No one school has stood out the most but there are a lot of things that have stood out about certain schools.
LJ: What schools have you and your parents both shared the same high interest in?
RJ: Me and my parents have interest in a lot of schools that recruit, I could give you more when I have a list done
LJ: What have you improved on the most this season that scouts will see?
RJ: I feel like I have improved my on ball defense this year a lot.
LJ: Is your goal to play in college or would you consider skipping high school and going straight to the league?
RJ: Whatever is best for me at that moment. Both have their pros and cons so it would just be a family decision.
LJ: You have had some showdowns. What has been your biggest game this season?
RJ: I feel like my showdown with Jalen Green and Tyrese Maxey have been the biggest. I was looking forward a lot to both of those games.
LJ: What did you average last season?
RJ: I averaged 30 PPG 8 RPB 6 Asts
LJ: You and Jalen Green are really close. Have you two talked about being a packaged deal?
RJ: We have talked about it but not too much in depth.
LJ:  What other visits do you have scheduled after Kansas?
RJ: None so far right now I'm just really focused on my school team.
LJ: When will you release your top teams?
RJ: I will release my top teams sooner than people think but there is no set date.
LJ: What do you think you need to improve on?
RJ: I feel like I could improve on my floater, I don't use it that much so I think it can help.
LJ: Have you thought of a date of commitment yet.
RJ: I haven't thought about a commitment date yet, it really hasn't crossed my mind.
LJ: How were your visits to these schools? What stands out about them?
Memphis: The Way coach Penny and Coach Miller have a bond with their players.
Duke: The culture that Coach K has built for years and puts into his new style of teams and players.
Kentucky: The way Coach Cal is so honest with his players, prepares them mentally for the next level.