The rivalry between Ohio State and Penn State is huge in football. Usually that game is nationally televised. The rivalry is intense and action packed even leading up to the game itself a week before tip-off. This Saturday Ohio State will play Penn State at the annual "White Out" game. That game not only is a bragging rights game but it has been a game that determines the momentum of each team's season. The rivalry between both programs could transfer to basketball. Penn state won the NIT last season going 26-13 and beating Utah in a convincing fashion 82-66 sending a clear statement that Penn state hoops is on the rise. In 2016, Penn state got commitments from two elite prospects in Tony Carr and Lamar Stevens. Carr, the number one prospect in Pennsylvania that year, and Stevens was the number three in all of Pennsylvania were a dynamic duo from Roman Catholic high school in Philadelphia.. The Nittany Lions also got a commit from the number seven prospect in Pennsylvania in 2016 3-star Roman Catholic forward Nazeer Bostik making their presence felt in their home state. Tony Carr was drafted by the New Orleans Pelicans in the 2018 NBA draft after two season at Penn State already giving this era in Penn state basketball an elite recruit that turned into a pro player. I see Penn state's starting line up being Mike Watkins at center, John Harrar at Power Forward, and Lamar Stevens at Small forward Josh Reaves at shooting guard and Jamari Wheeler at point guard. Stevens is serious, he is the returning leading scorer and took over games last season including 28 points in the NIT championship.
Wheeler at point guard brings a toughness that wins clutch games and he is one of the better defenders in the Big Ten. Reaves is the explosive veteran at shooting guard, Harrar proved last season he is an inside presence, and Watkins is one of the premier big men in the Big Ten. Penn state has quality starting lineup that can challenge for the Big Ten title but the starting line-up is not what makes this team different from other Penn state teams, it's the bench. Trent Buttrick is a 6-8 234 power forward who can stretch the floor; he gives Penn state a shooter that can bang inside. Kyle McCloskey was a promising 3-star quarterback for the Villanova wildcats, he also was a talented forward for Germantown Academy in Fort Washington, PA who averaged 21 points and 11 rebounds his senior season. He adds another athlete that can play inside and out for the Nittany Lions. Izaiah Brockington was a big get for Coach Chambers; Brockington is super explosive and shot 41 percent from long range last season for St. Bonaventure. Joining Brockington as another explosive combo guard off the bench is high 3-star point guard Rasir Bolton. Bolton and Brockington will add a dimension to the bench that Penn state has not seen and will be a problem for opposing defenses also 4-star wing Myles Dread is an elite prospect who could impact right away, Dread was the third ranked prospect in DC by 247 sports not to mention Center Satchel Pierce and Senior forward Delvis Zemgullis. The future of Penn state still has 2018 commits 3 star guard Myreon Jones and 6-7 point guard Daniil Kasatkin plus new 2019 commits 3-star center Abdou Tsimbila, 3-star small forward Patrick Kelly and top prospect small forward Justin Mckoy. Penn state is looking at the greatest era in basketball this program has ever seen.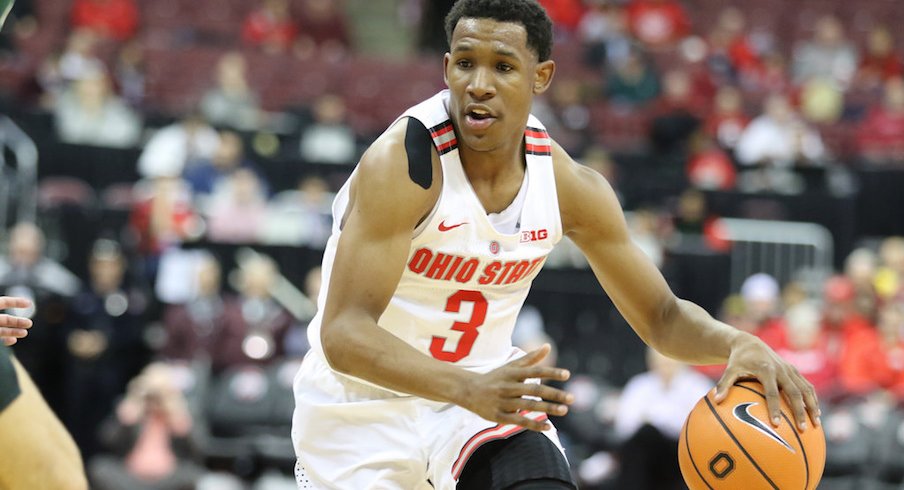 Ohio State has been a program that has sent several elite prospects to the NBA. Last season they had the Big Ten player of the year in Keita Bates-Diop who was drafted by the Minnesota Timberwolves in the 2018 NBA draft. I see Ohio States starting line up being point guard C.J. Jackson, shooting guard Musa Jallow, center Micah Potter, power forward Kaleb Wesson, and small forward Andre Wesson. Ohio State also has some talent on the bench with 2017 high 4-star small forward Kyle Young along with elite New Jersey shooting guard Luther Muhammad and high 4-star power forward out of Texas Jaedon Ledee. Ohio state also has some talented pieces for the future in 2018 high 3-star combo guard Duane Washington, the nephew of NBA champion Derek Fisher, and high 3-star small forward Justin Ahrens. The Buckeyes also have started off their 2019 class with commitments from elite 5-star point guard DJ Carton and the 2nd best prospect in New Hampshire by 247 sports elite small forward prospect Alonzo Gaffney placing Ohio State 12th in the nation for 2019 so far.
The talent that both programs have will make them one of the tough teams come march. Picture Rasir Bolton vs. DJ Carton or Myles Dread vs Luther Muhammad. This season seeing Muhammad, Dread, and Stevens should be a thrill to watch. Muhammad is one of the best scorers in the 2018. The Hudson Catholic mamba should be an instant impact freshman for the buckeyes. Stevens is a Big Ten player of the year candidate that can score from anywhere and Dread is a 5-star talent in my opinion he can do a little bit of everything and is a player you can give it to in the clutch. Jaedon Ledee gives the wildcats a front court player who will be a presence in the Big Ten. Penn state beat Ohio State both times last season so the Buckeyes have a bad taste in their mouths they want to forget about. The talent on these teams will make this a great match up in college basketball in the near future and make the basketball rivalry as exciting as the football rivalry.