Akok Akok is a very talented 2019 high 4-star power forward who plays for Putnam Science Academy out of Putnam, Connecticut. He has a nice long range shot and shift moves with his length and size. He is one of the top five two-way players in the country in any class. If Akok continues to progress he could find himself an NBA draft pick because of his ability to stretch the floor and affect the game on both sides of the floor. Akok is the top rated prospect in Connecticut, 13th ranked power forward, and 58th ranked prospect in 2019 by 247 sports.
LJ: Being a great defender. Is that something you take pride in?
Akok: Yes I do. Each game my coach challenges me to see how many blocks I can get. Defending leads to offense and that's what's won most of our games this summer.
LJ: What type of offense do you like to play in?
Akok: I like to stretch the floor, shooting three balls, pick and rolls, pick and pops scenarios and just getting to the hoop.
LJ: You were offered by Georgetown in April. How is the relationship between you and the Hoyas been since then?
Akok: Me and coach Ewing's relationship been great since April. He talks to me about how Georgetown is a great fit for me and my goals for the future.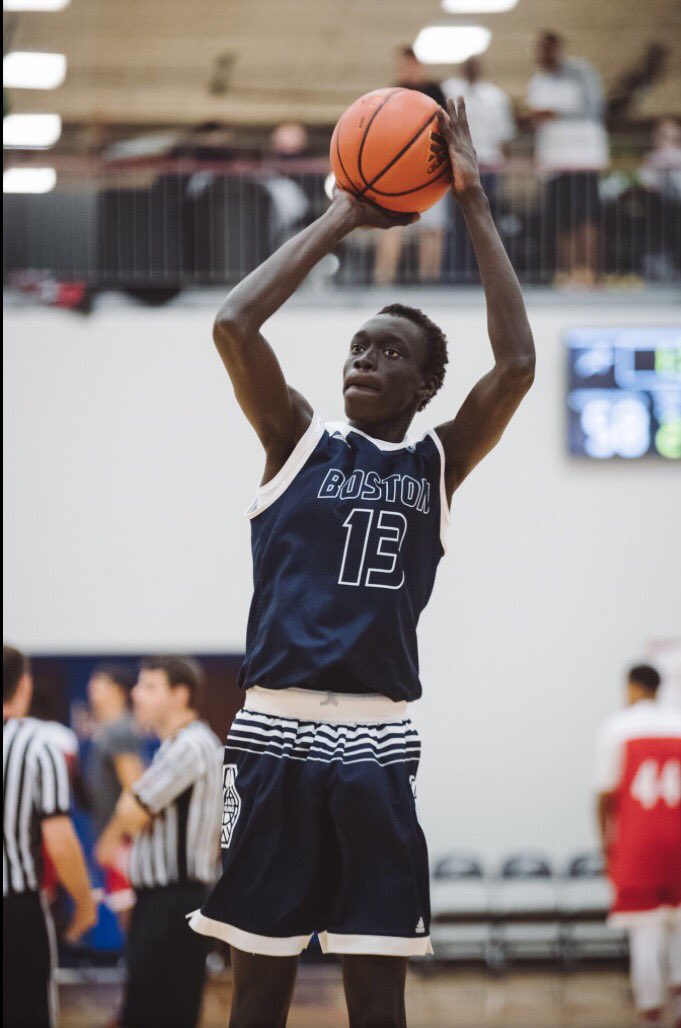 LJ: Who recruits you from Georgetown? Do you plan to visit? When?
Akok: Coach Ewing, I'm going to try to visit Georgetown sometime in the future.
LJ: What do you like about Georgetown? Would you place them among your top teams?
Akok: Well first off if the players play for a hall of fame coach it doesn't get better than that. I would say Georgetown is up there with my schools as of right now.
LJ: What is your relationship with these teams? Do you plan to visit? When?
Syracuse: Coach Gerry and Coach Boeheim are great coaches. They've been recruiting me since this past year and they believe I would be a great player for Syracuse in the future. I plan on visiting in September.
Connecticut: Coach Hurley and Coach Moore are great coaches. They feel like I would reach my full potential and reach the goals I intend on reaching. Have not reached any dates but are being arranged soon.
Providence: Coach Blaney and Coach Cooley are great coaches. They believe they can help me reach that next level coming in and playing for them. Another school I'm scheduling a visit for.
LJ:  What do coaches like about your game?
Akok: A lot of coaches like my versatility, the ability to stretch the floor, make shots, block shots, etc.
LJ: What teams are showing you interest that hasn't offered?
Akok: As of right now not too many.
LJ: When do you plan to commit?
Akok: Plan on committing during my senior year.